West End Venue Equipment
Our venue has a capacity of 300 persons who must be 18 and older.
Board Midas M32-r (digital 32 channel)
Speakers – All speakers are QSC K series (self powered), (2) E20-598 15″ mains (Flown), (4) 10″ monitors (Wedge), and (2) 18″ sub. Specs available at www.qscaudio.com
Microphones Shure Beta 58's
We have parking for 2-3 for vans with trailers directly behind venue and parking for buses in lot next to venue (no shore power hook ups). Load-in area is directly behind venue – 10 feet from road to stage, 32 channel digital mixing console (recording options available)
All QSC Series speakers and monitors 2, KW 3 way 153 75 active loudspeakers 2, KW 15 subwoofers 2, K12 "flown" 90 active loudspeakers 4, K10 stage monitors
All microphones are Shure series SM58 Beta and regular (vocals) SM57 (guitar & horns) 52A beta (kick drum) PG56 (drums)
Venue contact: booking@drinkatwestend.com
We provide a sound engineer for all of our shows. (only shows w/ signed contracts booked with an agency can provide their own engineer, due to insurance regulations)
"THE NO SURVIVORS TOUR" FEATURING: THE CONVALESCENCE!
$12.00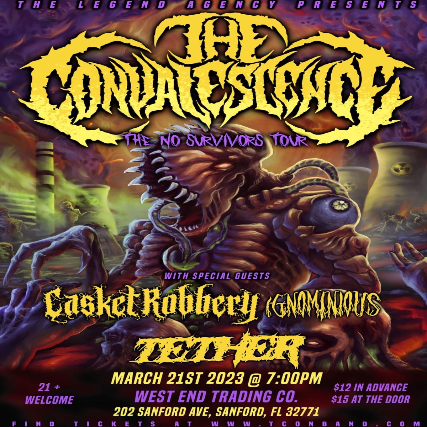 The Convalescence

Casket Robbery

Ignominious

Tether